The Guardian, "Phone-hacking scandal: NoW exec Stuart Kuttner bailed after arrest"
Stuart Kuttner, former managing editor of the New of the World, was arrested in the phone hacking and bribery scandal. Like Rebekah Brooks, who was arrested last month, Kuttner was involved in the paper's relationship with Sara Payne after her eight-year-old daughter, Sarah, was abducted and murdered. Payne's cell phone was hacked while paper executives were engaged in what Payne believed was a genuine friendship. - HTN Foundation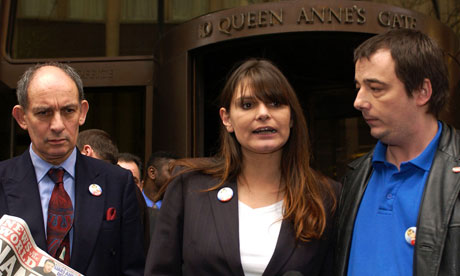 Stuart Kuttner (left) with Sara and Michael Payne during the Sarah's Law campaign. Photograph: Fiona Hanson/PAPhone-hacking scandal: NoW exec Stuart Kuttner bailed after arrest
Amelia Hill, Ggardian.co.uk,
Tuesday 2 August 2011 20.49 BST
Stuart Kuttner, the public face of the News of the World and its most vocal public defender for 22 years, has been arrested by police investigating allegations of phone hacking and of bribing police officers to leak sensitive information.

As managing editor until his resignation in July 2009, Kuttner was in charge of finances at the now-defunct tabloid.

Kuttner, 71, was described at the time of his resignation by the last editor of the newspaper, Colin Myler, as a man whose "DNA is absolutely integrated into the newspaper which he has represented across the media with vigour".
<< READ MORE >>